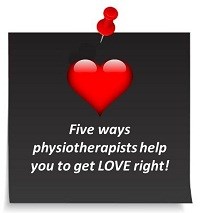 I can hear your heart beat:
Shape of my heart
You can't even think of a Valentine's night out if your heart is not in good shape. Your top tip for getting your heart into shape and preventing cardiovascular disease (that is, any disease condition affecting the heart or blood vessels) is to do regular exercise, especially aerobic and strength training. Your physiotherapist is an expert at creating a structured, safe and effective programme of exercise for you, that takes into account your unique needs.
Lovin' arms
There's a powerful link between chronic pain and depression – and both are huge downers for romance. Even something as 'simple' as chronic neck pain from working at a computer all day, or an aching back, can take the joy out of your day and ruin any thoughts of romance. Pain is a major focus for physiotherapy; if you have a chronic pain condition, consult your physiotherapist for treatment and, just as important, exercise prescription to reduce pain and return to function.
Take my breath away
You don't want to be lost for breath while out on a romantic date, so if you have breathing difficulties (as a result, for example, of asthma or chronic pulmonary obstructive disease), do visit your physiotherapist to get some breathing technique training – there's a high level of evidence for the effectiveness of physiotherapy's help in this regard.
I wanna dance with somebody
What's more romantic than dancing with the person you love? But dancing is often a no-no for those of us with low back pain or hip and pelvis problems. Pain and spasm in these areas can freeze you so badly that you can't even shake your booty!
You need a healthcare professional who doesn't just work to mobilise the lower body, but also takes an integrated approach to all the elements involved – the muscle and joint systems, the sensation of pain, your habitual posture and activities – to devise a programme of core strengthening exercises that will help keep your body flexible and ready to dance.
All of me
"Making love out of nothing at all" is not realistically possible. The foundation for love-making is very real: a strong pelvic floor which is active and useful. And it's a muscle that needs care and exercise as much as any other – but is often simply ignored, even by gym bunnies intent on building great abs!
If you have any concerns about the muscle that holds everything together and makes it possible to make great love, don't be shy. Your physiotherapist knows some simple but highly effective exercises and movements which will change your life – and your love-life, too.
Back